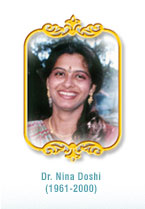 Dr. Shekhar Bhojraj

MS, FCPS (ORTHO), D (ORTHO)
Consultant Spine Surgeon, Lilavati Hospital
Past President of the Association Spine Surgeons of India

Dr. Shekhar Bhojraj is a MBBS who has done Interscience and MS (Orthopaedics). He has a 12-year experience
of teaching at the University of Bombay. Along with being a professor in Orthopaedics - University of Bombay,
he has also been Chief, Neurospinal Unit - K.E.M. Hospital and Seth G. S. Medical College, University of Bombay
from 1988 till 1993. He was Consultant Spine at the P. D. Hinduja National Hospital and Medical Research Centre
from 1993-2006. Currently, he is a Consultant, spine surgeon at Lilavati Hospital, Mumbai.

He has acquired various special trainings:
• AO spine fellowship - University of Nottingham, UK and University of Berne, Switzerland
• Y. Cotrel spine fellowship - Paris, France
• Kenton Leathermann Spine Fellowship - University of Louisville
• Kentucky, USA - With special interests in spinal deformities, spinal tumours and spinal tuberculosis

Dr. Shekhar Y. Bhojraj has collectively won 5 awards and gold medals:
• A. A. Mehta gold medal for the best paper at the annual IOA conference at Vishakhapatnam, AP- 1987
• Young surgeons forum award in 1990

He has in all written 13 International Publications some of which are:
• The Journal of Bone and Joint Surgery - March 2001 (American + British Publications)
• Bilateral Vocal Cord Paralysis after anterior cervical fusion in Whiplash injury. Surg. Neurol. Spine 2000;
53:586-8 (American Publication).
• Primary Hydatid disease of the spine -an unusual cause of progressive paraplegia. J. Neurosurg (Spine)
91:216-218, 1999 (American Publication).