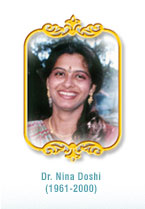 Dr. Himanshu Doshi
M.B.B.S (Mumbai)

Dr. Himanshu Doshi is a graduate from T. N. Medical College. He has worked as a Houseman in
Intensive Medical Care Unit / intensive cardiac care Unit at Rajawadi Hospital, Mumbai where he acquired an
experience of handling major cardiac / medical emergencies. He has also worked offshore in the Oil and Gas industry
as a Rig Medical Officer. His job profile included taking medical care of everyone onboard as well as
'boats' working with us. In the interim he was exposed to critical care of all traumatic injuries and
some medical illnesses. In 1995, along with his wife Dr. Nina Doshi, he ran a clinic for 5 years before
she passed away in 2000. In 2002, he started working with an offshore construction barge in Mumbai High.
Later in 2002, he was offered a job in world's largest drilling company Transocean where he took medical care
of everyone on-board. Since 2003, he is working with ENSCO Offshore International Drilling Company and
is based in Doha Offshore, Qatar.