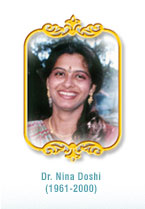 Dhaval L. Mehta
CMD - kreaté advertising pvt ltd.

Dhaval L. Mehta co-founder of Nina Foundation and has been into the advertising industry for
20 years now. Dhaval L. Mehta has a background of commerce and management from Bombay's prestigious
Jamnalal Bajaj Institute of Management Studies (JBIMS). He has also enjoyed his stint in
Mercantile Advertising Services and ULKA Advertising.

At the tender age of 24, he decided to let his creative wings spread freely as he
established 'Ubiquitas' on 1st October 1989. His remarkable stewardship and incredible creative
ideation helped 'Ubiquitas' make its presence felt in advertising circuit for 13 years.After 'Ubiquitas' he
bought into existence kreaté on 1st October 2002. With a unique blend of his vast experience in the field of advertising and his mantra that guides the customer towards building the brand through customized,
creative communication he has a long list of satisfied customers.

Kreaté is an eclectic creative powerhouse that encapsulates loads of creative energy, tons of big ideas
and an unending zest for advertising. He is a Rotarian for 12 years associated with the Rotary club of Mumbai Sion.
He has participated in various community projects of the club. Being an all rounder cricketer he has made his team
achieve plenty of district tournaments, and personally been awarded best bowler, best batsman and
best wicket keeper several times.